Do You Have an Effective Online Presence?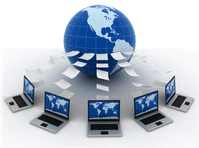 As a local business owner did you know that there are people in our area looking for you right now but they can't find you. Unfortunately you're missing out on their business. That's right, everyday people in our area use the internet to find a local shops, products and services they need including yours and if you don't have an effective online presence you are missing out on their business.

The days of traditional advertising, like ads and yellow page listings, were enough to keep your customers coming in and old ones coming back. In today's world, your business must be using the internet to reach more customers and clients to stay competitive.

The question you might be asking yourself right now is what type of effective presence do I need to bring in new business on a regular basis?

You should start taking advantage of online marketing strategies such as…
1. A website that brings new visitors to you by positioning your business high in the search engines that generates new customers and clients for free.
2. A Google Places listings so potential customers and clients can find your contact details.
3. A business page on Facebook to generate local buzz about your products and services.
4. A mobile version of the website for people using iPhones and other mobile devices can find you.
5. An online customer follow-up and retention system so your customers and clients are encouraged to come back and do business with you again and again.

As a local business owner these are just some of the powerful online strategies available for you to use to increase sales and profits in your business. These strategies can provide a much higher return on your investment than traditional marketing methods.

We'd really like to show you how applying these types of methods can start improving your bottom line right away.

As online marketing experts and local business owners ourselves, we want to do our part to help the area economy. With this in mind, we invite you to contact us today for free no obligation consultation.
We look forward to helping local area businesses like yours generate more clients and profits.
Icon
Every business can benefit from more exposure. Because of current trends, having a great Google Places listing is almost becoming a necessity.

Statistics indicate that more than 50% of all internet/mobile phone searches conducted were looking for information pertaining to a local business.

As a result, it has never been more important to ensure that you build a strong and meaningful presence for your business on the web.


Icon
Social Media
We are a social media consulting firm that creates campaigns for businesses via various channels to ensure effectiveness and revenue generation.
We have built our company around our clients by taking the time to personalize their social media campaigns to fit their needs.
We are a full-service firm offering Facebook, Twitter, YouTube and other social media outlets to ensure your business maximizes its reach via multiple channels.
Social Media Presentation
Icon
Search Engine Optimization, aka SEO, is the term that refers to the things you can do to improve your website's visibility in the search engines. Search engine optimization techniques focus on increasing the organic, or natural, traffic that you receive based on your ranking within the search engines.

The goal of search engine optimization is to ensure your website appeals to search engine crawlers, or bots. The search engines will take note of your site and its content, categorizing it in a way that will allow it to show up in the SERPs (search engine results pages) when certain keywords are typed.